SPE Membership
The Society of Petroleum Engineers (SPE) is a not-for-profit professional association whose more than 140,600 members in 144 countries are engaged in oil and gas exploration and production. SPE is a key resource for technical knowledge providing opportunities to exchange information at in-person and online events and training courses, publications, and other resources. SPE maintains offices in Dallas, London, Dubai, Kuala Lumpur, Calgary, Moscow and Houston.
Lead the industry in changing times.
Learn from the best and brightest.
Belong to the world's largest upstream oil and gas professional organization.
SPE is a place for all of today's industry professionals, regardless of experience or course of study.
Although engineers are the core of SPE's membership, scientists, managers, and other professionals in the industry are also a part of our SPE community.
Evolve and Thrive with SPE | Renew Your Membership for 2022
In this challenging year, SPE members have continued to inspire and support each other locally, regionally, and globally.
SPE has evolved to provide unparalleled insights, shared expertise, life-long learning and community strength to fuel the success of our members and the future of the industry. As a member, you are part of that!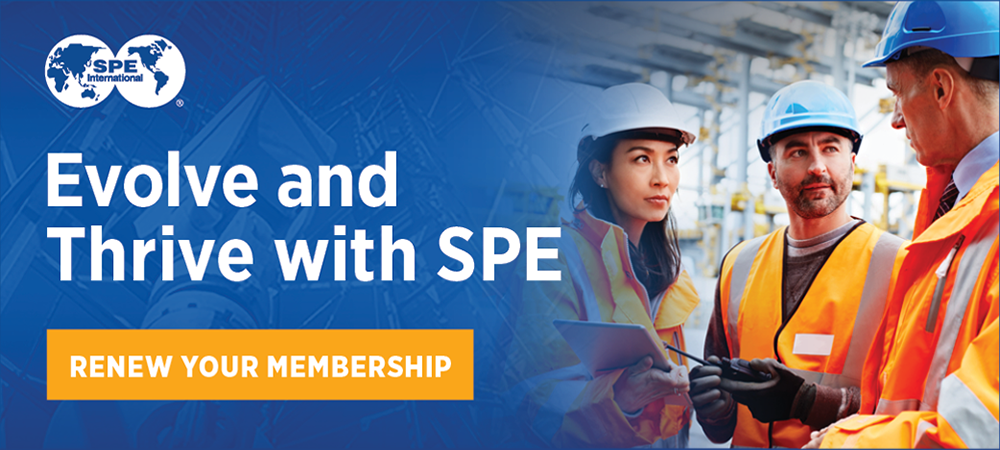 Renew your 2022 SPE membership to keep your valuable member benefits.
Insight
• Access the latest briefs and features on E&P technology advancements across SPE publications including JPT® Networking
• Network and knowledge sharing opportunities at both global and local levels including your SPE local section.
Technical library
• Access to 220,000+ technical documents in OnePetro®, the multi-society, online library. Peer-Reviewed Journals
• Discover information on new technologies or build your reputation by submitting a paper for publication.
Global events
• Industry-wide technical conferences to in-depth training courses that bring together professionals from around the world.
Online education
• Deepen your expertise and engage with other professionals in your field through our continuing education programs.
Renew your membership today and receive 6 Free paper downloads in OnePetro®, worth $48!
Checking your membership details
If you want to check your current SPE Record visit the SPE website and login to the members only area using the login button (top right of screen).
Updating your membership details
If you want to update your SPE contact details you have 3 choices:
Member information is usually updated by SPE Richardson within 2 working days of receipt. SPE UK currently update the e-mail delivery database quarterly, to keep costs down. But we will do so more frequently if we see local members actively using SPEEDER.