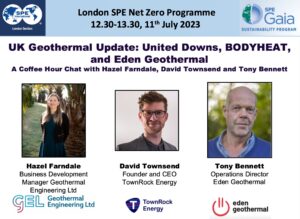 The London SPE Net Zero Gaia committee, in association with our SPE Europe geothermal colleagues, is excited to invite you to this coffee hour chat where we will discuss ongoing UK geothermal projects.
Our speakers for this coffee hour include Hazel Farndale, business manager for Geothermal Engineering, who oversees GEL's research and consulting activity on geothermal projects in the UK and globally, and specifically the deep geothermal United Downs project in Cornwall. She will be joined by David Townsend, founder and CEO of TownRock Energy, a geothermal consultancy out of Scotland focused on helping their clients unlock their geologic assets to eliminate waste and carbon emissions. The third speaker is Tony Bennett, Operations Director with Eden Geothermal.
Booking: The event is free to attend but please register via the Eventbrite link.